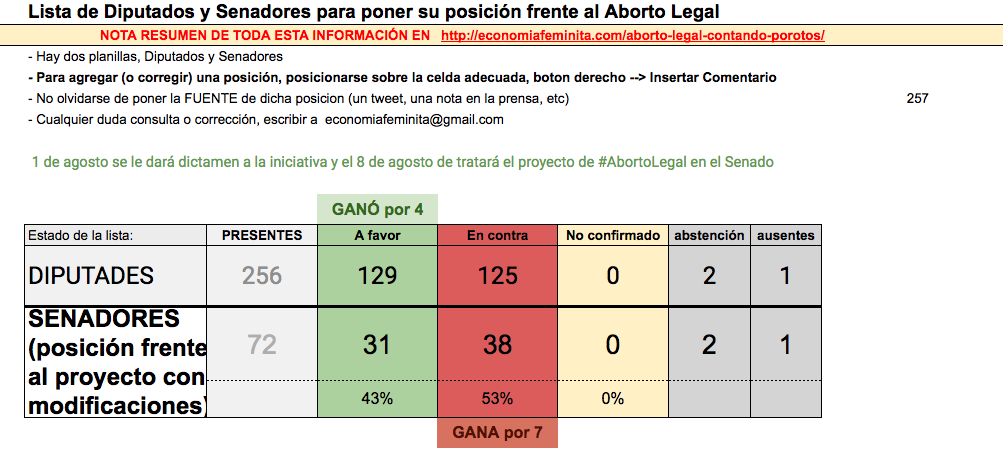 Website: Ecofeminita (Argentina), a nonprofit organization that publishes data and articles about women's rights, with a special focus on economic empowerment.
Project: A transparency tool to map Argentinian lawmakers' position on abortion.
Year: 2018
Link: Original spreadsheet
How it works: Using public information available on Argentina's Congress webpage, we created a simple spreadsheet and established a parliamentary-like vote system –in favor, against and abstain– to reflect lawmakers' position on the legal abortion bill. Users could comment on the spreadsheet, select the name of the deputy or senator and a link to a reputable source/media indicating their position on the record. Ecofeminita would review it and add it to the whip count.
My role: As Audience Coordinator, I supported the distribution of the spreadsheet to crowdsource the data. Like we did with the FeminIndex, we asked our followers on social media to help us find public statements from members of Congress about abortion. In just a few hours, we were able to map 60% of the Chamber of Deputies (Lower House) and 30% of the Senate. Those figures grew up to 80% and 69%, respectively, in a week.
Impact: Contando Porotos became Argentina's only crowdsourced and on-the-record tool to map the Congress's position on its first abortion vote. It was featured as a data source on local, national and international media, such as The New York Times.
Moreover, it allowed us to see that our audience not only wanted to know what the result of the vote was going to be, but also participate in the production of that information. That, in turn, elevated the audience's trust in our tool: people knew how the whip count worked because they had collaborated in its creation.