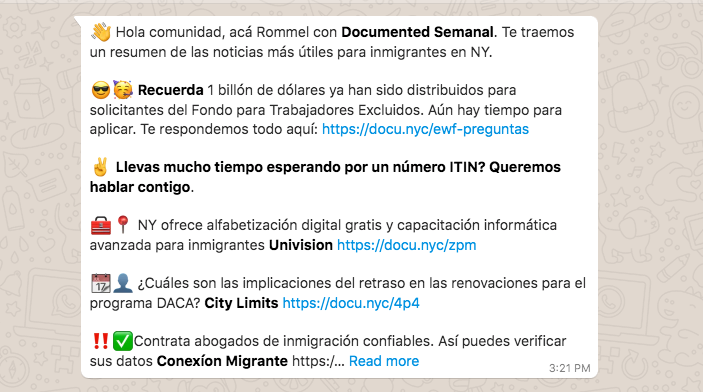 Website: Documented NY, a local newsroom that covers immigration in New York.
Project: Documented Semanal, a weekly round-up of immigration news in Spanish distributed via WhatsApp.
Year: 2018
Link: Documented Semanal
My role: Documented Semanal is the outcome of a community research that Documented's Audience Editor, Nicolás Ríos, and I conducted when we were part of NYU's Studio 20 graduate program. Working with undocumented Latinxs in New York, we identified one key issue: important data like immigration lawyers, types of visas or healthcare centers circulate in very small circles. If someone doesn't have access to that network, they simply can't access that vital information.
We also identified WhatsApp as one of the main ways Latin American immigrants get their information. Based on those results, we knew that a new approach had to be in Spanish, it had to facilitate direct communication between Documented and its readers, and it had to be specifically tailored for WhatsApp, to meet them where they already were.
Impact: Documented Semanal was designed to ensure that the newsroom was listening to the community's needs. That proved to be true and essential in 2020, when the newsletter became a key resource for immigrants looking for trusted information amidst the pandemic. For this work, the channel won the 2020 Gather Award in Engaged Journalism. Interaction with readers has also fed reporting and multimedia projects, like the documentary Sé lo que es pandemia and a story that I wrote for a collaboration with The Guardian.